RA33
Controlador de dosificación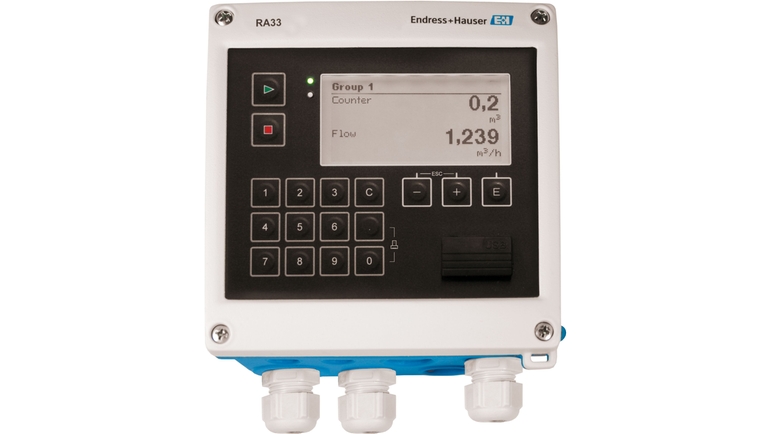 Registro y control de las operaciones de dosificación
El controlador de dosificación RA33 está diseñado para registrar las señales de salida de caudal y control de válvulas y bombas para asegurar la dosificación exacta de las cantidades de dosificación predefinidas. El volumen medido puede ser normalizado con la función de compensación de temperatura/densidad. El proceso de llenado puede ser optimizado con una normalización automática o fijada tras la ejecución. Los combustibles minerales pueden ser normalizados de acuerdo con la norma ASTM D1250-04.
Selección rápida
Elija entre nuestras opciones recomendadas
Configuración individual
Continúe seleccionando entre todas las opciones posibles
Ventajas

Normalización fijada y automática tras la ejecución para la obtención de resultados altamente precisos y constantes

Mayor calidad gracias a una dosificación exacta y rápida

Posibilidad opcional de normalización volumétrica para combustibles minerales de...
Ámbito de aplicación

Registro y control de las operaciones de dosificación con una duración mayor a 10 segundos. Las aplicaciones comunes incluyen las industrias siguientes:

La industria alimentaria

La industria química

La industria farmacéutica

La industria Oil & Gas
Documentos / Manuales / Software
Accesorios / Piezas de repuesto
RH/RS/RA33 pipe mounting set

RH/RS/RA33 mounting set wall

Nr

5

Order code

XPR0001-SK

Cable entry set panel mounting: 4xM20, 2xM12, 1xM25

Terminal strip 3 pole FMC1,5/3-ST-3,5

for digital I/O and RS485

Nr

3

Order code

XPR0001-CB

Cover electronic internal for RA33 incl. screws (for Mainboard + CPU card)

Nr

4

Order code

XPR0001-SP

Small parts set: hinge pin, pressure compensation element, USB-cover, seal panel

Nr

2

Order code

XPR0001-UT

Housing lower for Rx33 incl. counter plate (please order name plate separately with DIENST-T)

Nr

8

Order code

XPR0001-KA

Nr

8

Order code

XPR0001-KB

Communication board USB + Ethernet + ModBus TCP

Nr

8

Order code

XPR0001-KC

Communication board USB + ModBus RTU (RS485)

Nr

8

Order code

XPR0001-KE

Communication board USB + RS232 (for RA33)

CPU board Rx33, XPR0002

incl. LCD + flat ribbon cable

Field Data Manager Software MS20

Visualization software and database for visualization of historical data like measured values, calibration or configuration. Manipulation protected SQL database, graphical visualization, tables for measured values, alarms or events, online help, user administration, Automatic read out of device data. Automatic data export in various formats or in secured format for backup or reduction of database. Note: The version FDM essential only supports RSG30, RSG35, RSG40 as well as RSG45 and has a restricted functionality.